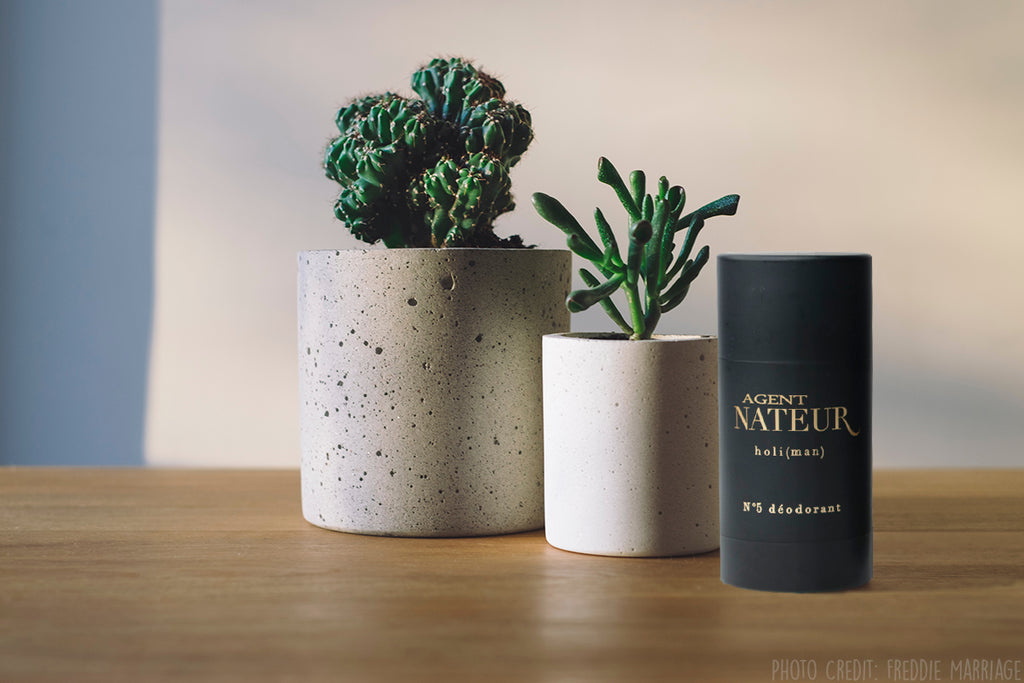 The holi(man) N5 Deodorant is truly a one of a kind deodorant.  Created for men but is appreciated and loved by women just as much.  This unisex deodorant is equally seductive for all to enjoy with its handcrafted blend of Vetiver, Rose, Sandalwood, Cistus, and Cedarwood.
We love that this deodorant comes in 1.7 oz packaging because it's great for traveling.  We seriously have the holi(man) N5 Deodorant with us everywhere we go—in our gym bag, in our bathroom, in our travel bag, etc.  We just don't leave the house without it on!  It's just that good!!!
Blush With Green Tip: intended used after the shower.  For best results, apply a thin layer onto dry underarms.  Reapply as needed throughout the day.
Full ingredients: organic coconut oil, sodium bicarbonate*, beeswax, sunflower butter, citric acid, avocado butter, castor oil, raw organic honey, a proprietary blend of organic essential oils.
*This deodorant does include baking soda.  If you are sensitive to baking soda, we recommend that you try an apple cider vinegar wash prior to using our deodorant.  Apply apple cider vinegar and warm water to a wash towel and pat your underarms before applying our deodorant.  This has alleviated the rash and allowed those who are sensitive to continue using natural deodorant that contains baking soda.  If you have a history of sensitive skin or allergic reactions, please be sure to test body products on a small area inside your wrist for 2-3 days prior to using.   
Shop Agent Nateur holi(man) N5 Deodorant now!