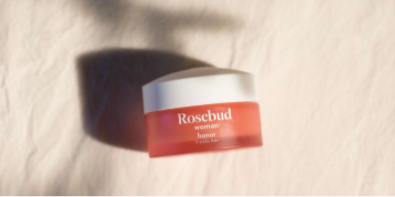 Let's chat—intimate care!  It's often overlooked, but it's should be part of our daily ritual.  Take care of ourselves should start at the most delicate parts of us.  And we're so proud to carry the Honor Everyday Balm from Rosebud Woman.
It's a luxurious balm that quickly dissolves into a luscious oil that's created to moisturize, condition, and replenish intimate skin.  Rosebud Woman recommends keeping it at your bedside to be used before bed as a self-care ritual: "Massage yourself starting at the hip bones, working into the pressure points on the pubic bone, the inner thigh, and the groin, then onto the inner and outer labia and, finally, the inner fold including the clitoris. This is a great time for a little loving affirmation, too! Leave the balm on, allowing it's active plant ingredients to work overnight."
It's great for women of all ages including those experiencing menopause, moms-to-be, and new moms.
Shop the Honor Everyday Balm now!